HOLTVILLE — Before the late Jonathan Burnworth became a member of the IID dive team, he was a firefighter for the Holtville Fire Department.
In fact, Burnworth grew up here, graduated from Holtville High School in 2004 and is the son of life-long Holtville residents Pat and Karl Burnworth, who own Burnworth Landscape in Holtville, where Jonathan also worked for some time.
So when Pat and Karl were finally ready to share their son's legacy with the community following his death in October 2018, the couple knew exactly in what city they'd want the inaugural Jonny B Memorial Fundraiser to take place.
Held Saturday afternoon at Holt Park, the fundraiser offered tacos plates for a $10 donation, with proceeds going to the Holtville Firefighters Association, which Jonathan was a proud member of.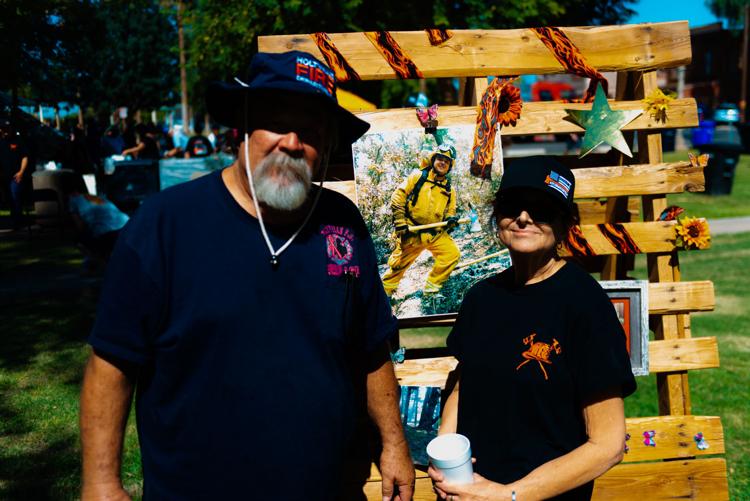 The small fundraiser ended up having quite the turnout, as guests filled the sidewalks and grass area of the park, bands performed live music and a Mercy Air helicopter made a landing on a nearby street.
"He'd be embarrassed," Pat said of her son. "He'd be proud of it because he knows it's all for the good, but he was a little on the shy side."
After graduating from Holtville High School, Jonathan immediately attended a fire academy and, soon after, became a reserve firefighter for Imperial County Fire Department.
He then decided to spend some years working for his family's landscaping businesses.
At the age of 29, the urge to once again serve as a firefighter struck him. After taking an EMT refresher course, he became a reserve firefighter for Holtville Fire Department and eventually a full-time one.
Even though his stint as a firefighter for his hometown lasted only about two years, as he joined the IID dive team in February 2018, the department remains fond of Jonathan, HFD Chief Alex Silva said.
A HFD brush truck, which Jonny helped with spec'ing, now carries the words "In Remembrance of Jonny Burnworth." It was on display Saturday.
Jonathan's parents said they believed that, after working with the IID, he would've likely returned to HFD and retired there had he not passed.
"He told chief one day that he was going to take his place at one time or another," Pat said.
"I told him I'll do everything I can do get him my job," Chief Silva added.
According to Jared Smith, Jonathan's friend of about 20 years, he had the perfect personality to serve as a firefighter.
"Like you could be stuck in the middle of the desert, and it would be 2 o'clock in the morning, and he would literally wake up with a trailer and pull a mission to come save you," Smith said.
Jonathan Kizziah, a friend of Jonathan Burnworth's since they were both in the eighth grade, felt it was his friend's natural gift to be a first responder.
"He always at the right place at the wrong time, I guess," Kizziah said. "He would always run into car accidents and was always there to calm whoever was there in the accident."
Jonathan's mother explained that she plans to spearhead the fundraiser for the next five years, but she hopes it will one day serve as a self-running event which inspires other fundraisers for local youth groups in the city.
"It's not a ton of money, but it's enough that it's going to help out a lot of kids," Karl added.
While the funds raised from the fundraiser will benefit the HFA, a portion will go toward its Guardian Angels program, which gives underprivileged Holtville kids gifts on Christmas.
Chief Silva announced during Saturday's fundraiser that the program will officially be renamed Jonny B Guardian Angels.
"I know he is our guardian angel for all of us," Silva said. "He's up there smiling right now."
"It's an honor to know that his legacy lives on and it goes towards a charity that he was so passionate about," Katie Burnworth, Jonathan's wife, said.
Jonathan and Katie had met while they were in high school, dated for about eight years and were married for two years before his death.
The two had a son, Colton, 2, and daughter, Parker, 5, together, and hoped to one day have a family of four kids.
"I just kind of try to keep one foot in front of the other and just keep going and raise our children the best way I can, with the values and morals in mind that Jonny and I had for our children," Katie said.
Jonathan's move to the IID was toward embracing his roles as a husband and father, Katie explained.
"I'd say it was more of a decision for his family, to kind of be able to be around more," she said. "His kids were his world — it was just cut short."
IID has denied paying workers compensation to Katie, on the argument that his death was ruled due to a heart condition and not to workplace safety.
Jonathan suffered a fatal heart attack while attempting the recovery of a car submerged in a canal northeast of Calexico.
Katie Burnworth is suing for workers compensation, and family members dispute the conclusions of both the autopsy and OSHA reports absolving IID of fault.
"The investigation and the story that IID has pitched is wrong," Katie said. "They know it's wrong. They picked and chose details that they want to talk about."
Katie said her attorneys have already done their own investigation.
"My attorneys did their own investigation, and it's kind of what we had always heard and kind of what we had thought," Katie said. "It's just sad. And so I feel like his parents really need the closure."
Jonathan's father said that he would like to eventually make some kind of comment to the public at one point regarding his son's death.
"At this point, because this is an event to be thankful for him, I wouldn't want to get into that part," he said." But I think that people are going to find out that there's a lot more to what's going on with that and the investigation."