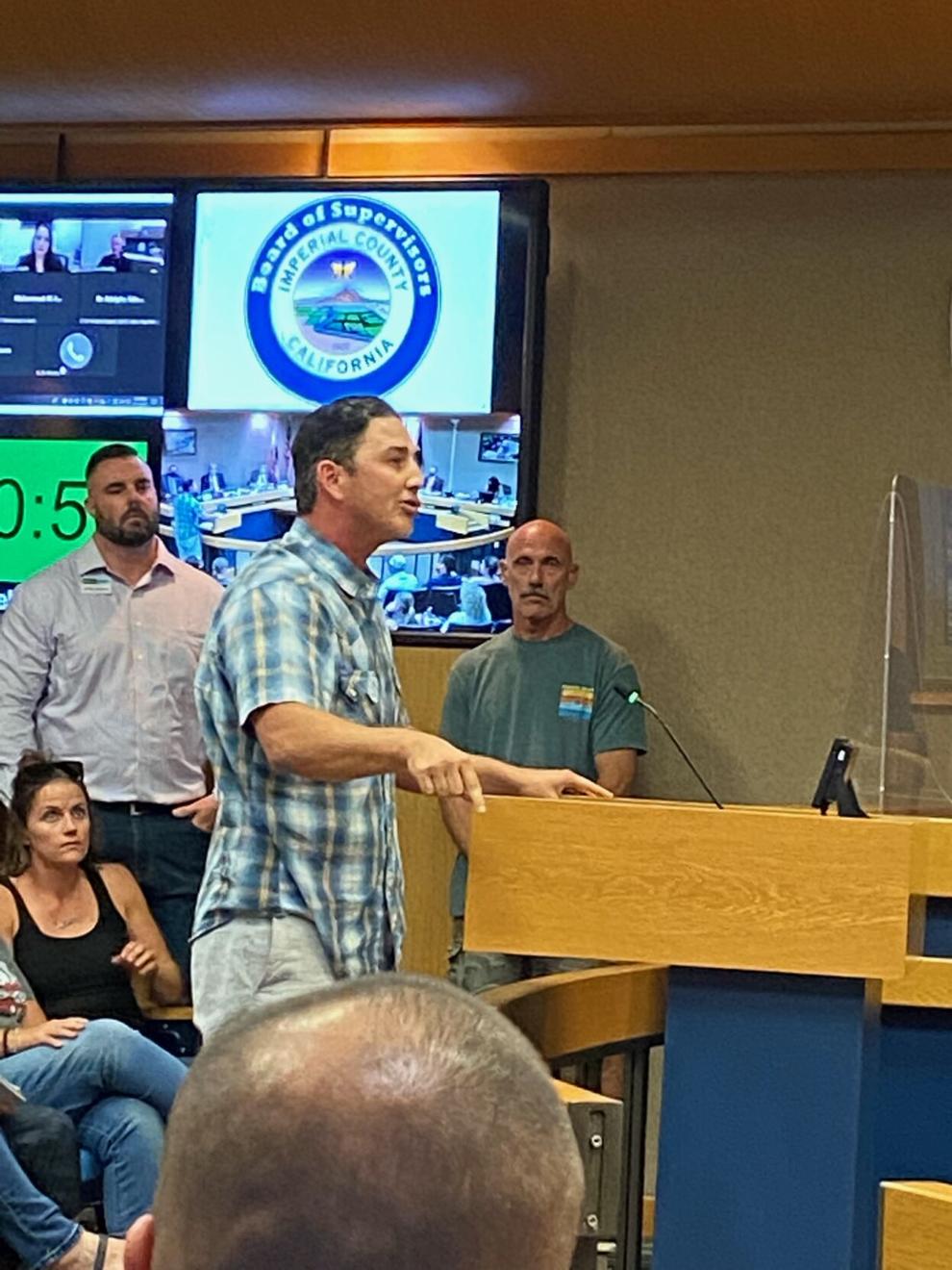 EL CENTRO – In a raucous meeting that threatened to spiral into chaos before it even began, the county Board of Supervisors in a rare evening session on Tuesday faced perhaps 250 county residents grappling with the emotional question of the day – to mask or not to mask.
While the board does not have the authority to remove an order mandating face coverings in an effort to prevent the spread of the COVID-19 virus – that's a state ruling – that technicality mattered little to the standing-room-only gathering.
The board scheduled the meeting at the County Administration Center following weeks of residents appearing at its meetings blasting its decision to impose a face-covering requirement more stringent than the state's.
The room was just filling up and the board members not even seated when one man shouted, "The doors are locked."
County Chief Executive Officer Tony Rouhotas Jr. responded, "We have a limit on how many people can come in."
That set off an angry chorus of jeers and complaints about obstructing free speech that seemed to quickly grow to a crescendo.
A woman shouted, "You're doing this to get under our skin. This only shows how powerful we are."
But just as it seemed the anger was about to boil over, another man shouted the doors were again open and the crowd quickly calmed.
Asked who opened the doors, Rouhotas snapped, "Go ask them."
Pressed on the matter, he added, "Is the overflow room full? There's not a person in there. We have an occupancy issue. I did not give the order to lock the doors. He obviously thought I did."
Once the meeting formally began the agenda called for local health experts to speak, along with Imperial County Office Education Superintendent J. Todd Finnell. All but Finnell spoke remotely.
While there were some jeers directed at data discussed by the medical experts, the fireworks predictably began when the crowd, easily 50 to 1 in favor of anti-mask and anti-vaccine proponents, each got their three minutes to speak. Seemingly each point made in favor of the cause was met with enthusiastic clapping and cheers.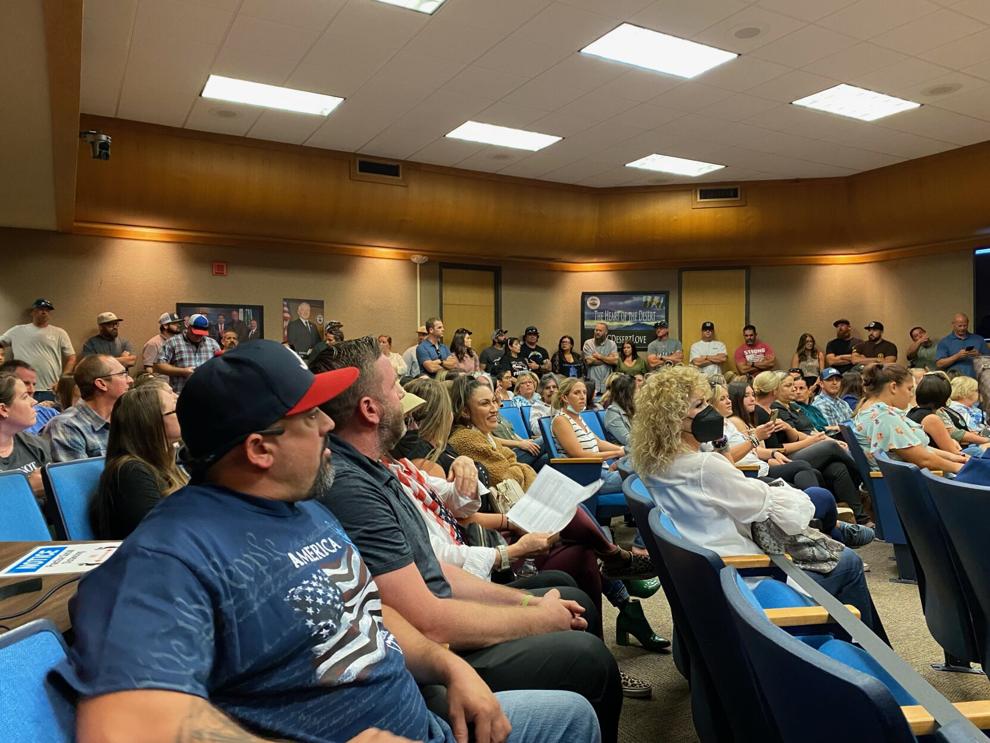 Aside from the criticisms of health policy they feel makes them less safe, which has been a persistent theme among those speaking at recent board meetings, the protesters advocated for the county to just cut ties with the state and its funding if mask and vaccine mandates are not lifted or are expanded.
Lindsay Haendiges of Brawley said "state aid is not needed" and county agencies should just impose budget cuts to live without it.
Brian Floyd said the county should take a page from San Francisco's book.
"What I'd like to see is Imperial County become a sanctuary city for mandates. I really hope you guys (the board) can think out of the box and become a sanctuary county," he said, noting the Bay Area city had done that for immigrants. "What can we do to help you? You have the voices, but we have the numbers."
If local officials do not resist mandates, Haendiges warned, "We will remove our children from (public) school and home school them."
Gov. Gavin Newson has said he will require a COVID vaccine for children as early as next school year.
Many of those who spoke said they fear harm from masks and vaccines, especially for children. Masks breed germs and vaccines make people ill, they alleged, citing studies.
Haendiges said a petition she circulated against mandates gained 751 signatures in one week.
However, several residents spoke in favor of the mask and vaccine mandates and the county board's actions.
Specifically, an order put in place on Aug. 17 and extended indefinitely by unanimous board vote on Sept. 28, requires face coverings be worn indoors regardless of vaccine status. It is stricter than the state standard that requires them indoors only for the unvaccinated. However, the board had also decided to regularly revisit the decision based on changing local COVID data.
"My students are wearing masks and getting vaccinated," said teacher Haydee Rodriguez. "I want you to make your decision based on the whole community, not who is the loudest, because there are a lot of us."
Kelly Ranasinghe, who said he has had COVID three times and nearly died from it, said, "There are 4.5 million cases (in California) and we are here listening to this about whether we should wear a mask or be vaccinated?"
He added doctors for more than 100 years have been listening to naysayers about such preventive measures, "the same nonsensical opposition you face. Do not be persuaded."
Those opposing the anti-mandate views were subjected to jeers and interruptions.
In the end, the board vowed to continue the conversation, but no decision was reached.
"There are choices being made at other levels that will have an impact (on the county)," District 4 Supervisor Ryan Kelley said.
While he noted his family has been vaccinated, he added, "I am against mandates. The biggest problem I have is the jeopardy of someone's income or being forced. I would suggest we have another forum and invite (state) Sen. (Ben) Hueso and Assembly Member (Eduardo) Garcia to hear our concerns and do it in a larger forum."
Central Union High School District substitute teacher Elia Heipt, who was among the evening's most vocal speakers – both at the podium and from her seat in the audience – afterward reacted favorably to the outcome.
"I feel our voices are being heard. I feel like we're making history. As a county we are coming together bringing the change we need. We need to be here for our children," she said.
Staff Writer Gary Redfern can be reached at gredfern@ivpressonline.com or (760) 337-3415.