IMPERIAL — Well, here it is, June 23 and the Imperial Valley is still home to the unified WBO, WBA, IBF and IBO heavyweight boxing champion, Andy Ruiz Jr.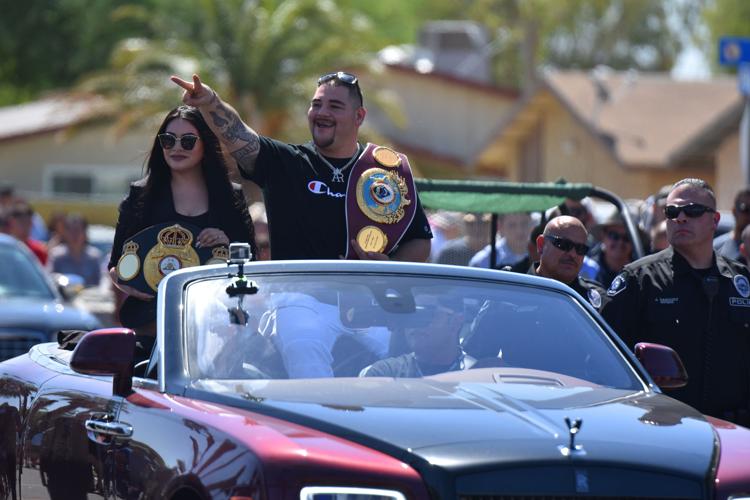 There's enough distance between today and Ruiz's June 1 title-winning result over Great Britain's Anthony Joshua for some of the shock of those words to have worn off. It's still a remarkable fact, but the passage of time has worn it down somewhat — especially after Saturday's parade through the heart of town here honoring the champ.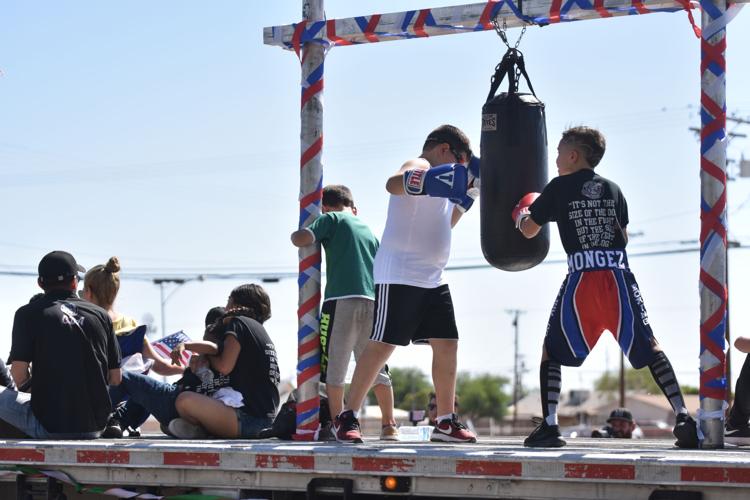 The parade was a capstone sort of event, giving local citizens and institutions a chance to express their admiration and appreciation for Ruiz face-to-face.
Those who did turn out were a vocal and enthusiastic bunch, and as Ruiz rolled down the street in a striking garnet-and-black Rolls-Royce Phantom, he was followed by bracing cheers and a winding gyre of photogs (with representatives from such big-time concerns as ESPN and the Los Angeles Times on hand to track his progress).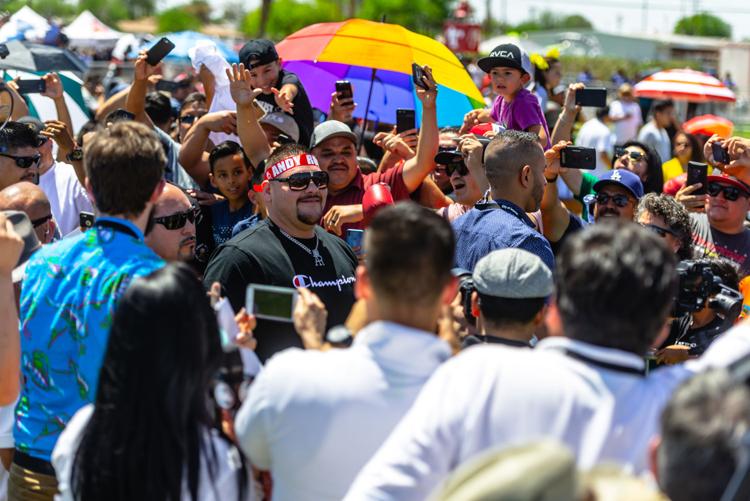 Attendance was not all it could have been, however. While no official figures or estimates were given, it is safe to say that the final numbers fell well shy of the 15,000 figure that Imperial City Councilman Darrell Pechtl indicated that the town was prepared to accommodate at a Friday press event.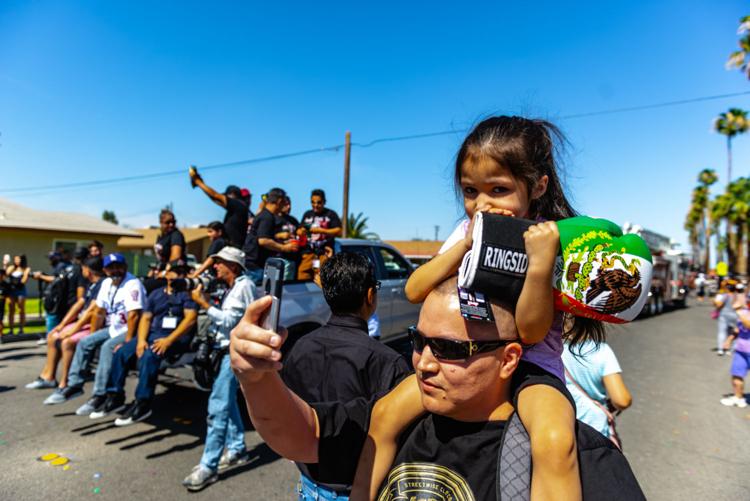 Even in the spots where the crush was at its thickest, it was still a fairly easy thing to navigate sidewalks.
That a larger number was expected was most obvious in the sheer mass of law enforcement officers and agencies present. The Brawley, Calexico, El Centro and Imperial PDs all had boots on the ground, as did Border Patrol and other federal agencies.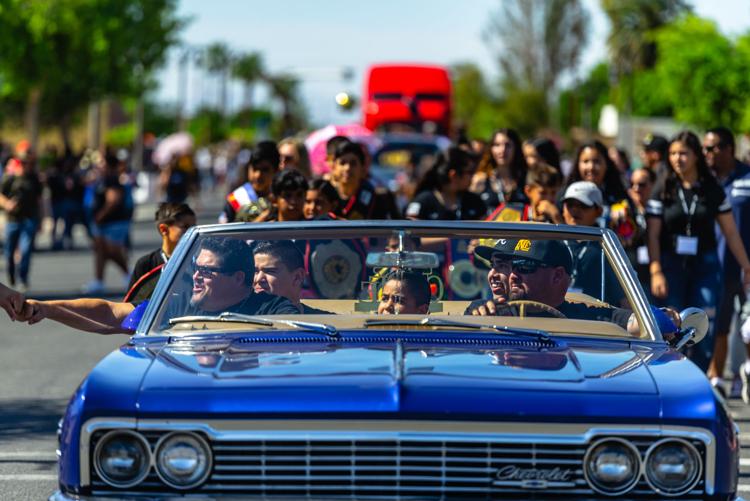 Nobody from the council was available to comment on the turnout, but a number of factors likely conflated into the lower-than-hoped-for numbers.
Opinions among attendees ranged from the ever-present sun, to the early scheduled start-time (things were supposed to kick off at 8 a.m., but for the actual start time was closer to 9:35; the cause of the delay had not been disclosed as of press time), to the venue.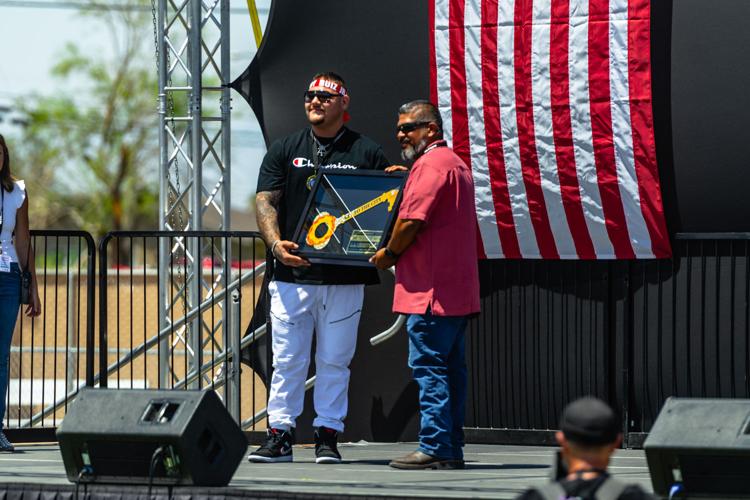 It is also conceivable that there was a certain degree of public confusion as to what was happening where, considering the time and place of the event had undergone some significant changes in the weeks since Ruiz's big win — going from a 9 a.m. showcase at the Imperial Valley Expo, initially planned by the Imperial Chamber of Commerce, to the more city-controlled final version.
Gloria Taitano, and 8-year "off-and-on" Imperial resident and parade-watcher, offered that she felt that "if the parade would've been held in Calexico, it would've been jam-packed."
Still, Taitano wasn't down on the proceedings, and wasn't about to miss them herself.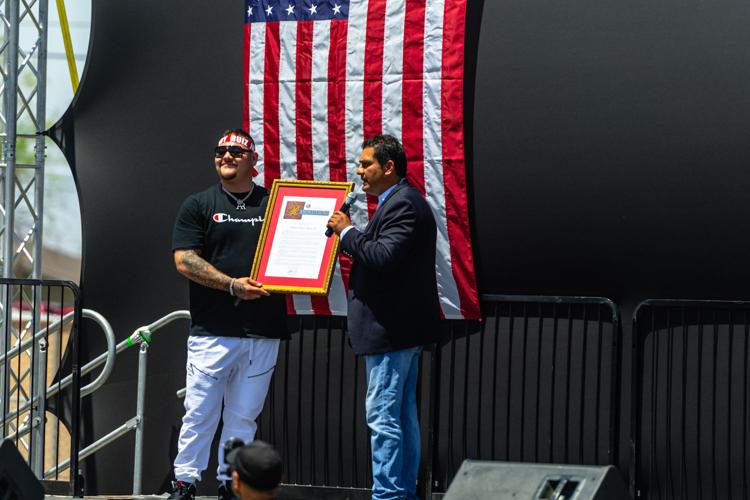 "I just think this is wonderful. It's a one-time event. We don't get this. … Coming from a small town (like Ruiz did) is impressive … and hopefully he will inspire a lot of our younger generations to come." she said.
Maxine Benot, a few steps down from Taitano, agreed. "This is big," she said. "We still know who (Mike) Tyson is, and he was heavyweight champion of the world, why couldn't [Ruiz] … get that big too? … It just seems like things have fallen into place and it was meant to be."
The rally at the end of the parade route seemed to end things on the right note
It went big on themes of commemorative immortality and daring to dream, and there were speeches and honors galore.
Ruiz was given an engraved wooden U.S.-Mexican hybrid flag by Imperial Police Chief Leonard Barra and Captain Mario Luna, who were representing the city's Police Activities League.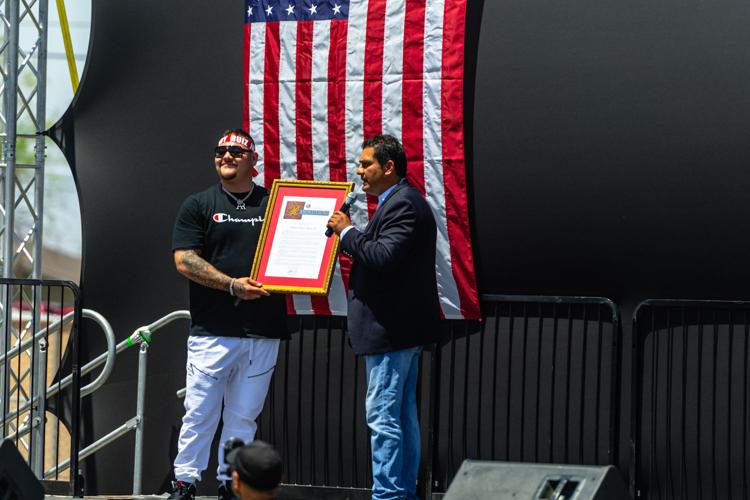 Next, representatives from the towns of Brawley, Calexico, Calipatria, El Centro, Holtville, Imperial, Westmorland and the county banded together to deliver a joint-proclamation officially declaring June 22, "Andy Ruiz Jr. Day" throughout the Imperial Valley.
He got certificates from Imperial Irrigation District Board Director Erik Ortega and state Sen. Ben Hueso. From Imperial County District 3 Supervisor Michael Kelley he received the Medal of Merit (described by rally MC Darrell Pechtl as "the highest award Imperial County can offer a citizen").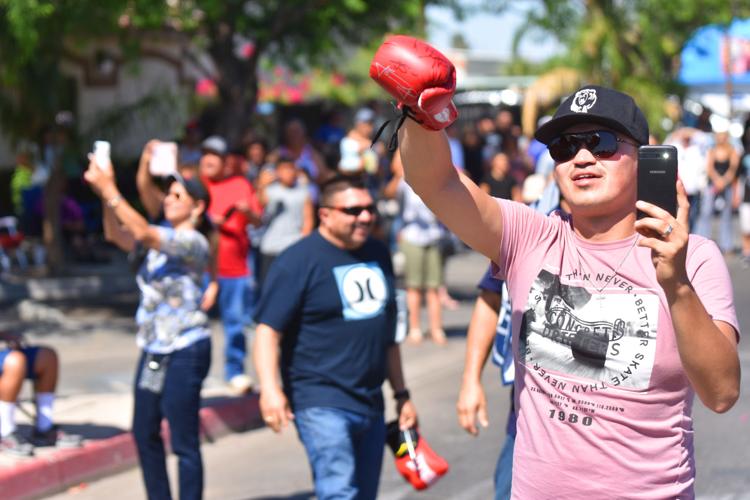 Senator Hueso, Ruiz's cousin Ralph Ponce, and Ruiz himself each gave a short speech — all of which marveled at the improbability of Ruiz's ascent and encouraged attendees to look to his example when confronted by seemingly insurmountable obstacles.
Hueso described Ruiz as having "achieved the ultimate dream," going on to say that he "remind[s] us all that hope exists for us as well."
Said Ponce, in an emotionally charged address: "He won for everyone. For all the underdogs. … Andy the giant-slayer defeated doubt. No matter how you look or where you come from, anything is possible."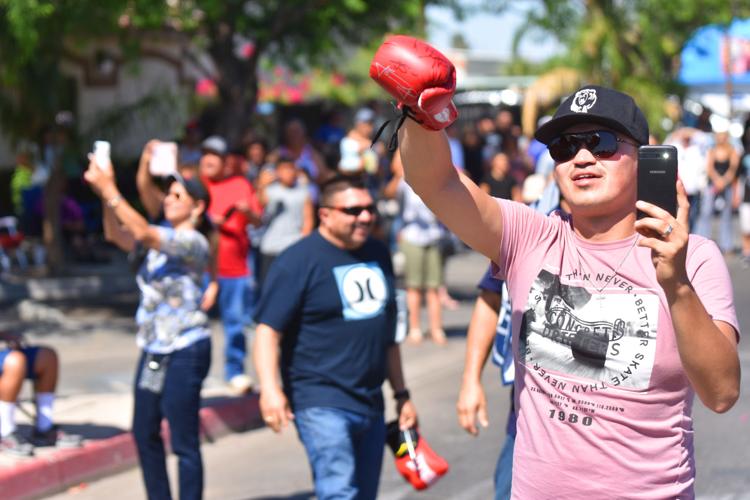 Ruiz continued the thread, saying, "I never gave up, after everybody was telling me that I wasn't gonna do nothing (because of) the way that I look … I kept training, I kept listening to my father, my team (and) my coaches. … When I got knocked down, I got back up like the warrior that I am. … (To) all the kids that have dreams, dream big."
Ruiz closed by giving thanks to the community for its past, present and future support.
"I love all the Imperial Valley. I love you guys. I was born and raised here and having this celebration means so much," he said