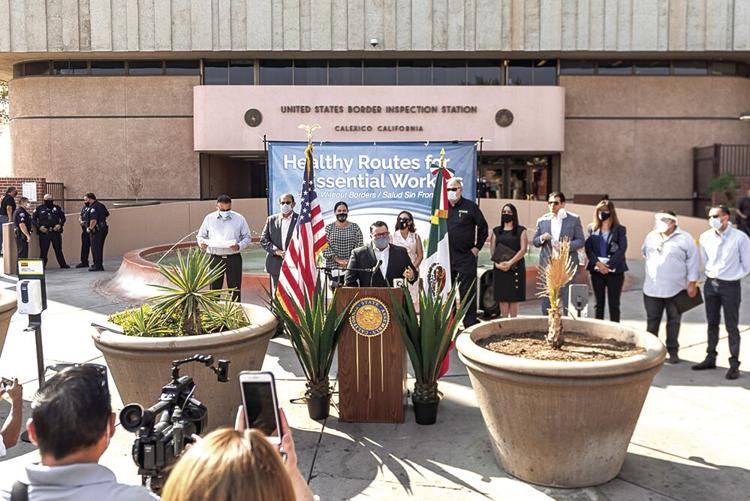 CALEXICO — An initiative providing essential workers with face masks as they cross between Mexico and Imperial County kicked off Friday morning.
The program, called the Health Without Borders "Healthy Routes for Essential Workers" initiative, will offer free disposable medical face masks to essential workers, such as farm workers, during their usual on-foot commute to work.
Health Without Borders aims to protect workers from contracting COVID-19 by distributing these masks.
A press conference to launch the mask initiative was held at 9:30 a.m. in front of the water fountain at the downtown pedestrian port of entry on East First Street.
Those in attendance got to see the program in action, as two women dressed in personal protective gear handed out masks to those who walked through the port of entry.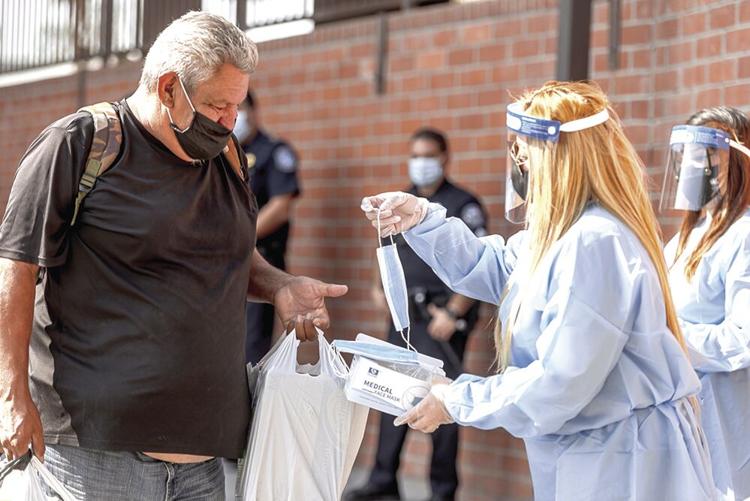 A similar activity will take place on an undecided date next week on the other side of the port in Mexicali.
The timing of Friday's event and the upcoming Mexicali event come just before the peak season of farm work begins in the county.
Teaming up to carry out the initiative are Brawley-based Comité Cívico del Valle and the Rubén Fernández Y Familia Foundation, a Mexicali-based non-profit.
With the aid of donors, the initiative has collected 80,000 masks in bulk. However, there was no one assigned to distribute these masks, Comité Cívico director Luis Olmedo Velez explained.
Comité Cívico and the Fernández Foundation pledged personnel to distribute the masks.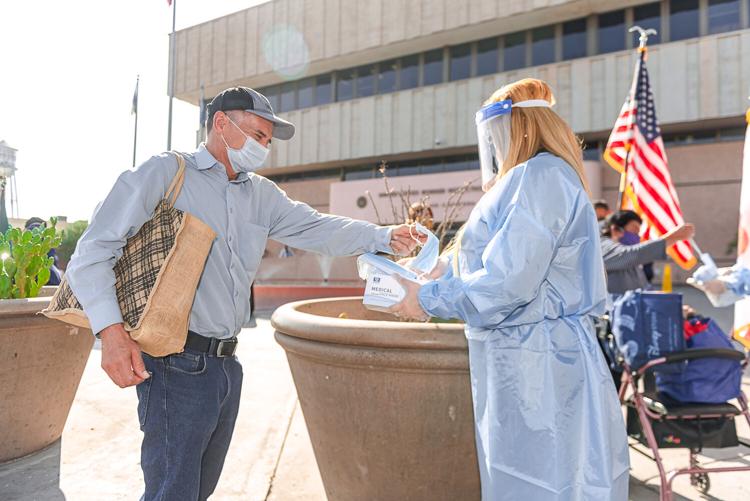 Consequently, Comité representatives will soon be seen distributing masks at spots, such as the POE and bus stops, that essential workers frequent during their daily on-foot journey to work in the county. The foundation will be doing the same in Mexicali.
The initiative's goal ultimately to is acquire and distribute 1 million masks.
A total of 11 dignitaries from both sides of the border spoke at Friday's press conference.
Daniela Flores, who heads the Imperial Valley Equity and Justice Coalition, was the master of ceremonies.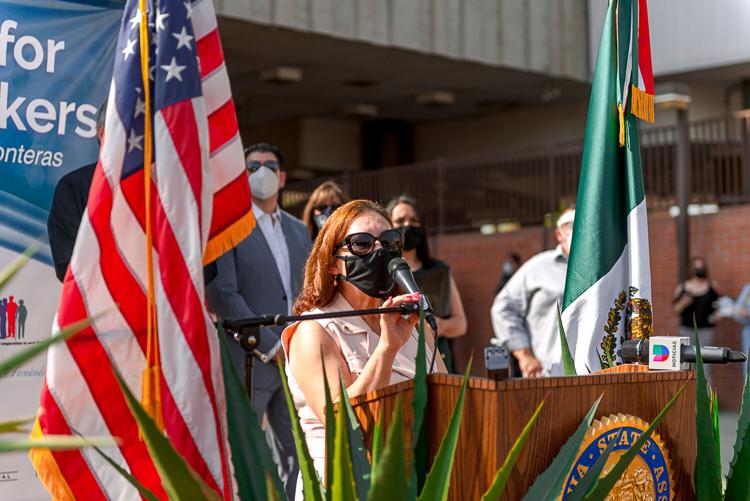 She was joined at the podium by Assemblyman Eduardo Garcia, D-Coachella; Baja California Sen. Alejandra León Gastélum; Comité Cívico's Olmedo; Imperial County District 2 Supervisor Luis Plancarte; District 1 Supervisor Jesus Escobar; Calexico Mayor Rosie Arreola-Fernandez; Mayor Pro Tem Morris Reisin; Mexicali Mayor Marina del Pilar Ávila; Imperial County Public Health Director Janette Angulo; Calexico Wellness Center CEO Blanca Morales, and Rubén Fernández, founder of the Fernández foundation.
Some speakers, such as Escobar, delivered their remarks completely in Spanish, while others, such as Garcia, provided statements in both English and Spanish.
"Everyone here is wearing a face mask," Garcia said. "We're leading by example."
Morales, during her remarks, spoke about the "essential workers" tag that has been placed on workers who cross the border for work.
She observed that some doctors who work in the county live in Mexicali.
Farm workers who live in Mexicali tend to leave their homes at 2 a.m. in order to cross the border on time for their shifts, she said.
"So we could all have food on our tables," she said.
Comité Cívico's Olmedo noted that many essential workers prefer to live in Mexicali because of the more affordable housing there.
He added that it is very difficult for workers to maintain social distancing while they commute to and from work.
Olmedo said disposable masks were specifically chosen because some workers wear reusable face masks but do not wash them.
This initiative will also provide access to masks for those workers who don't have a mask, he said.
Public Health Director Angulo explained that Health Without Borders is of extreme importance for the region, as COVID could easily spread during the commute of essential workers.
"A mask, when properly worn, acts as a barrier for the virus traveling to other people," Angulo said. "This can help save our friends, family and children of Mexicali and Imperial County."
Calexico Mayor Pro Tem Reisin expressed approval for how the initiative has placed people on both sides of the border in a position to work together.
"We are the sister city and we're going to work hard together and work hard at getting rid of COVID-19," Reisin said. "We're here to help."