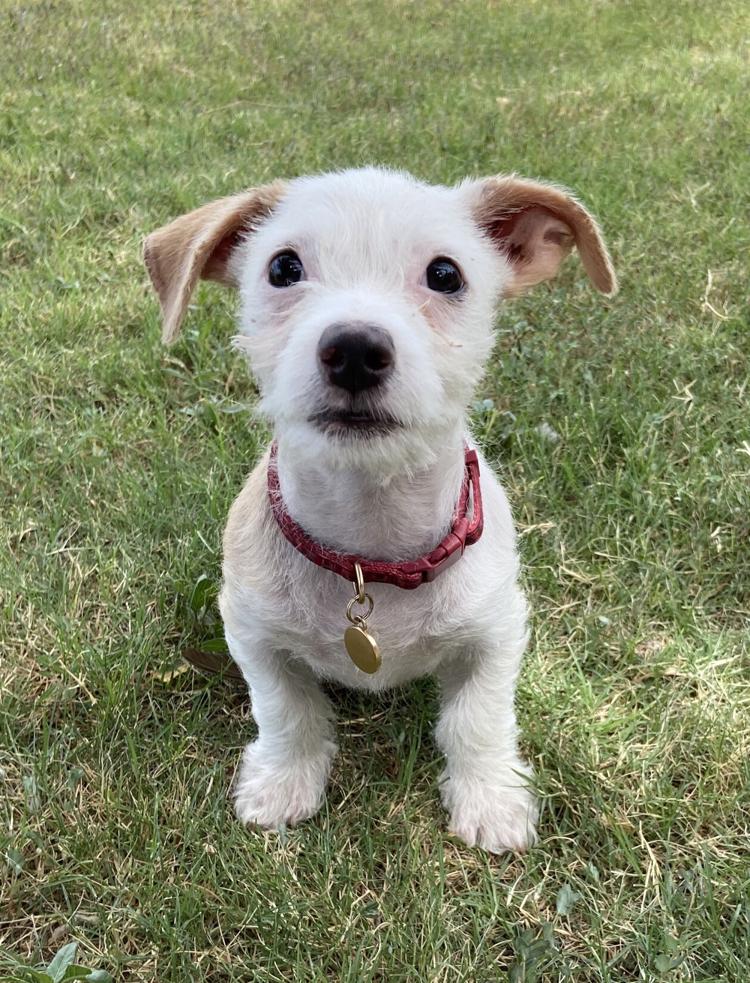 Ash came in to our care nearly three weeks ago after he was found by a local animal advocate amongst the charred rubble of the Niland fires. He was in desperate need of help.
We could tell that he was covered in some soot, but our team was more concerned by the number of ticks that he had on his little body. Before his much needed flea and tick bath, we initially thought he was a grayish/black color, but after the shampoo was rinsed from his fur we were surprised to see he was actually white and tan! After about an hour, our team was able to remove hundreds of ticks from him.
From there, we wanted to see if he would eat, but all he wanted to do was sleep and he did so for an entire day. When he woke, he was very quiet and very timid. All he would do was curl up in a ball and hide in the back of his kennel.
This poor puppy was traumatized and was scared out of his mind. He had no idea what had happened or what was going on. On day two of being at the shelter we noticed that blisters were forming on his head and body. Ash had suffered burns while trying to escape the fire. He was immediately placed into a foster home and was given antibiotics so he could heal faster and more comfortably.
His foster family said that after a few days, he soon transformed into an entirely different puppy! He came out of his shell and showed how strong of a personality he has. He also showed them that he is a playful and happy little guy.
He is having a blast with all of his kitty foster siblings and he loves to play outside! He gets along with all kinds of other animals and he hasn't met a single person that he doesn't like. The few people who have met Ash have fallen in love with him, and he can instantly put a smile on anyone's face.
Ash has braved through so much for such a young puppy. He is courageous and has overcome a serious catastrophe. Many would be scarred from such a traumatic experience, but like a Phoenix he has risen from the ashes.
If you would like to set up an appointment for a meet and greet with Ash, please call or email the shelter during our business hours. Due to COVID-19, meet and greets are by appointment only. Ash's adoption fee is $170.
NAME: Ash
ID#: 20-0493
AGE: 2 1/2 months
SEX: Male
BREED: Terrier mix
COLOR: White and tan
WEIGHT: 7 pounds
Adoption benefits include:
Up-to-date on vaccinations
Microchipping
Spay/neuter
One FREE wellness check with local veterinarian
One FREE grooming with Awesome Pawz in Holtville (dogs only)
1585 W. Pico Ave., El Centro, CA 92243, (760) 352-1911
Business hours
Tuesday-Friday: 2 p.m.-6 p.m.
Saturday: 11 a.m.-3 p.m.
Sunday and Monday: CLOSED
*Closed all major holidays*