EL CENTRO
Missing man found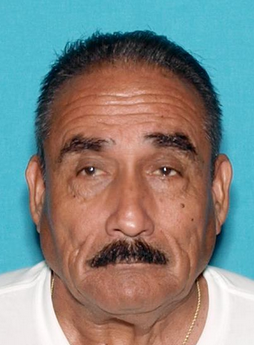 El Centro Police Department has confirmed the 67-year-old Riverside County man who was reported missing Tuesday after getting separated from his family has been found.
ECPD Detective Alfredo Hernandez said a passerby, Fabian Dominguez, found Rosendo Haro Villagrana around 6:45 a.m. Wednesday. Haro Villagrana reportedly was walking westbound on Interstate 8 between Forrester and Silsbee roads. 
"Dominguez recognized him from social media and the news," Hernandez said in an email. "Dominguez brought Haro Villagrana to ECPD where we re-united him with his grateful family."
Haro Villagrana and his family were passing through El Centro Tuesday when their car broke down in the area of Fourth Street and Smoketree Drive. Haro Villagrana reportedly walked across the street to use the restroom at 7-Eleven but never returned.
The gentleman reportedly had suffered a serious head injury many years ago that causes him severe memory problems, including an inability to remember names, addresses and phone numbers. Apparently, he became disoriented after visiting the convenience store and wandered off.
Aquatic Center announces Dive In Movie Night
The City of El Centro Aquatic Center, 540 Park Ave., will be holding a Dive In Movie Night Saturday from 5 to 10 p.m.
Family public swimming will begin at 5 p.m., with a feature film, "Trolls World Tour," beginning at 7:30 p.m.
Admission is free, but attendance is limited. Reservations may be made at https://www.signupgenius.com/go/diveinmovie.
Food and beverages will be available for purchase. The Aquatic Center will also be renting cabanas for the event. Large cabanas, which can fit 10 persons, will be available for $100. A small cabana, which holds six, can be reserved for $60.
To reserve a cabana, call (760) 335-4550.
Road construction on Evan Hewes
Expect lane closures and slower speeds on Evan Hewes Highway between State Route 111 and Cooley Road today while the Imperial County Department of Public Works repairs potholes.
The work is scheduled from 7 a.m. to 3 p.m. A 45 mile-per-hour speed limit will be posted in the work zone.
WINTERHAVEN
Perez Road closed
Imperial County Department of Works announced Wednesday that Perez Road, northeast of Winterhaven from Ross to Stalnacker roads, is closed until further notice.
The closure was attributed to a sinkhole at a bridge abutment.
Drivers are asked to seek an alternate route.
For emergency, call (442) 265-1818.
--Tom Bodus, tbodus@ivpressonline.com
EL CENTRO
Vehicle reported stolen
A blue 2018 Honda Odyssey was reportedly stolen from a residence in the 1600 block of Southwind Drive, El Centro Police Department call logs said.
The Odyssey was believed to have been stolen sometime between 5 p.m. Monday and 6:30 a.m. Tuesday. The owner of the vehicle notified ECPD of theft Tuesday morning.
The Odyssey reportedly has scratches on its front bumper.
Additionally, the owner reported she had left her purse in the vehicle.
At the time of the theft, the purse reportedly contained a driver's license, a Social Security card, two Bank of America credit cards, two Sun Community debit cards, a Chase debit card, a Staples credit card, a Costco credit card and $600 cash.
SEELEY
Property reported burglarized
A property located in the 1800 block of West Evan Hewes Highway was reportedly broken into recently, county scanner traffic stated.
The timeframe given for the burglary was sometime between March 8 and Tuesday. A reporting party contacted Imperial County Sheriff's Office on Tuesday morning.
A deputy responded to the scene and filed a crime report. A microwave and A/C remotes were reported stolen.
CALEXICO
Man arrested on warrant
A man with an outstanding local warrant was arrested Tuesday as he was attempting to cross into the United States at the east port of entry on Carr Road, Imperial County Sheriff's Office activity logs said.
Jose Lopez, 45, city of residence undisclosed, was detained by personnel at the port of entry about 3:30 p.m.
It was discovered Lopez was wanted on a local felony bench warrant, which had been issued Feb. 16 by the Brawley court for a probation violation.
Lopez was booked into county jail without bail.
—Vincent Osuna, vosuna@ivpressonline.com