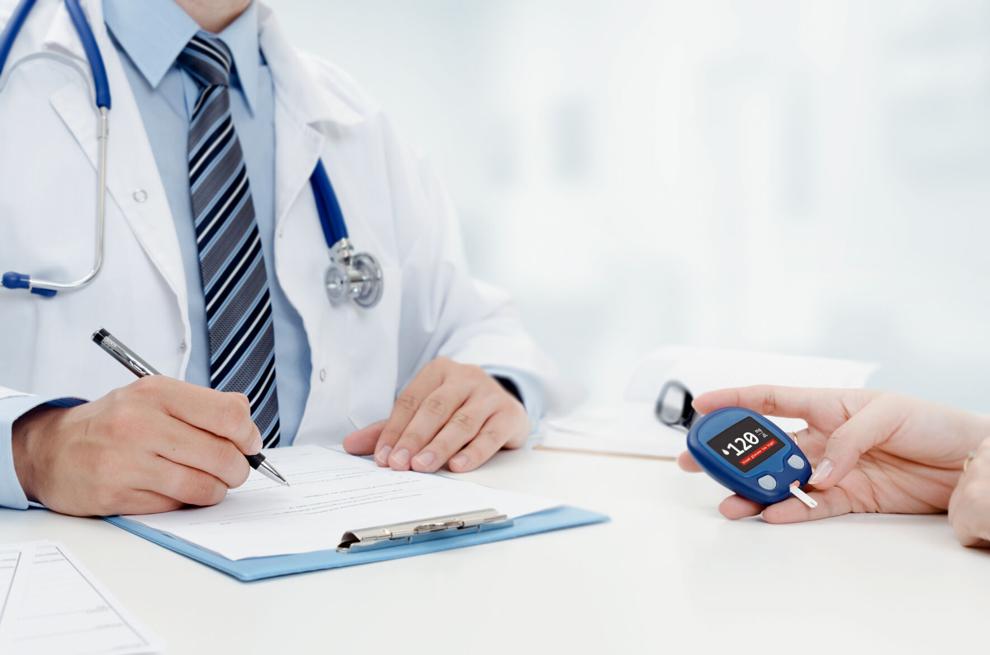 YUMA — A recent study suggests persons who contract COVID-19 are not only at higher risk of severe infection and death if they are diabetic, they may also be at higher risk of their diabetes becoming worse or even newly contracting the condition.
The case study was conducted by Yuma Regional Medical Center hospitalist Dr. Narasa Raju Madam and endocrinologist Dr. Rujuta Katkar. Their results were published April 2 in the American Endocrinology and Metabolism International Journal (Volume 9 Issue 1 – 2021).
" It is globally established that people with obesity and pre-existing diabetes have increased risk of severe COVID-19 and can have poor outcome if they get this infection," Madam said. "This new study shed light on impact of COVID-19 infection on the endocrine system and diabetes."
Madam and Katkar presented a case series of eight patients admitted to YRMC with COVID-19 and who developed new-onset diabetes mellitus.
Diabetes mellitus is a medical term that encompasses prediabetes and diabetes types 1 and 2. In short, it covers the vast majority of conditions that people mean when they say they have diabetes. (There is a condition called diabetes insipidus that is both rare and unrelated, and thus irrelevant to this study).
Madam said there is bidirectional relationship between COVID-19 and diabetes. "COVID-19 virus attacks important human organs such as pancreas, small intestine, kidney among others," he said. "It especially damages insulin-producing islet cells of the pancreas that disturbs glucose metabolism."
The patients in his and Katkar's study ranged in age from 34 to 74 years. Six were male and two were female. They had a body mass index (BMI) range of 26.61 (overweight) to 53.21 (class 3 obesity) kilograms per square meters when they presented with symptoms of COVID-19.
" There was no past medical history of autoimmune diseases or other viral infections, diabetes, pre-diabetes in our patients as evidenced by lab work/HbA1c (hemoglobin blood sugar) done prior to hospitalization by their primary care doctors," the journal article said. "Two patients had past medical history of hypertension. There was no family history of diabetes in all patients."
The eight patients all received subcutaneous basal-bolus insulin therapy in the hospital for glucose management, the article said. Under the COVID-19 treatment protocol at YRMC patients received steroids and empirical antibiotics, and were placed on a pharmaceutical regimen to protect against deep-vein thrombosis. They were also administered dexamethasone, a steroid, at an initial dose of 8 milligrams, followed by daily doses of 6 milligrams for 10 days.
Once the patients were discharged, they were advised to follow up with an outpatient medical provider to monitor and manage new-onset diabetes.
" All patients followed with outpatient providers," the journal article said, "where they continued to require blood-glucose-lowering treatment despite stopping getting steroids."
Of the eight patients, five followed up with an endocrinologist and had fasting C-peptide and glutamic acid decarboxylase (GAD)-65 antibody tests done. The former test is used to measure the body's natural insulin. A range of 0.5-2.0 nanograms per milliliter is considered normal. The GAD test is used to help determine whether a patient has type 1 or type 2 diabetes. The presence of GAD antibodies is considered an indicator for type 1.
Those five patients in Katkar and Madam's study were negative for GAD antibodies.
The doctors conclude the eight COVID patients with no history of diabetes developed the condition due to a plausible interaction between SARS-CoV-2 (the virus strain that causes COVID-19) and receptors for angiotensin-converting enzyme 2 (ACE2), a protein attached to many types of cells in the body.
" The resulting downregulation of ACE2 and ACE2 receptors expression caused islet-cell damage resulting into diabetes," the article said.
The researchers acknowledge the limitations of the study, including its small sample size, will require follow-up in the form of a clinical trial.
Nevertheless, the current findings point to a potential significant long-term impact for COVID patients. Patients, especially those having COVID-19 hospitalization history, may need to be screened for diabetes routinely, Madam said.
At the very least, he added, patients with diabetes should be "extra cautious in being compliant with preventive measures to avoid COVID 19 exposure and prevent severe infection resulting in hospitalization."