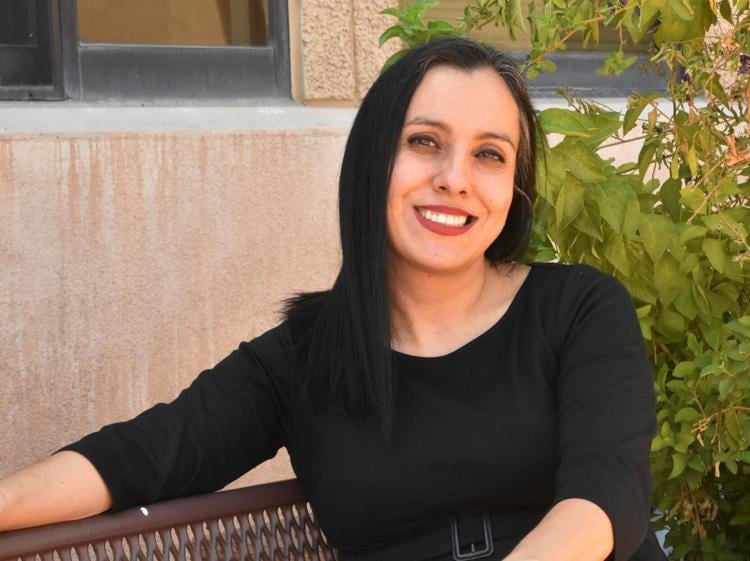 An artist at heart, county Public Health Department Director Janette Angulo as a youngster never intended to seek employment in the career field where she now finds herself.
Nor was she all that motivated to keep seeking promotions within the department once she had settled into her initial and subsequent positions during the nearly 18 years she has been employed there.
In fact, Angulo had occasionally applied for jobs elsewhere while employed at ICPHD.
"Public Health wasn't my dream, but I always did my best and waited to see what other opportunities came about," she said.
Dreams aside, Angulo is also a strong believer in a higher power and credits her faith in God in helping guide her decisions in life.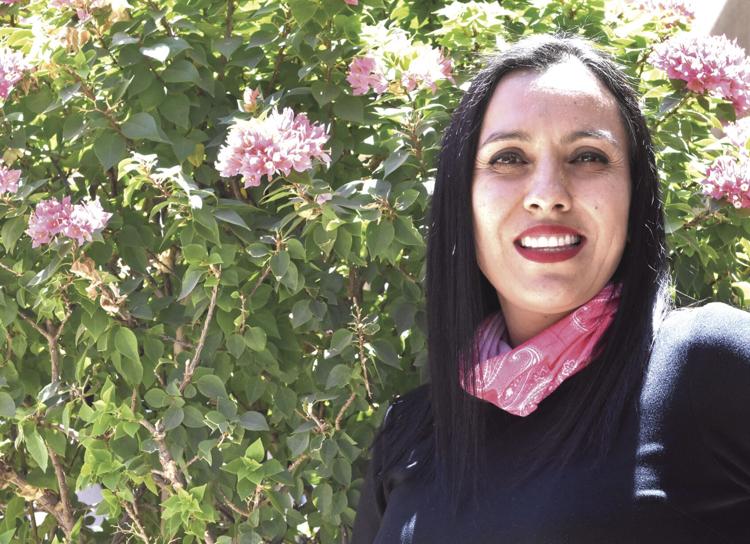 Today, she finds herself at the helm of an agency that employs about 120 and which finds itself on the front lines of a pandemic that is roiling the nation, state and, in particular, the county.
The turn of events may seem like a bad outcome, but not for Angulo, who believes strongly in transforming challenges into opportunities.
"I just know that sometimes we are placed in positions that sometimes we think is a coincidence," she said, adding, "I think I'm standing on very solid ground."
From artist to soldier to student
A native of Brawley, Angulo had originally made plans to attend art school in Long Beach following her graduation from Brawley Union High in 1995.
Those plans were largely owed to the help of her former BUHS art teacher Jon Archer, who not only encouraged her to pursue her passion but helped her successfully apply for scholarships.
Yet, even with her initial tuition covered, Angulo had a change of heart and decided not to attend. At that time, she wasn't familiar with how scholarships or financial aid functioned, a circumstance of not having anyone in her immediate family who had attended college or having had any mentors who could explain their significance.
Secondly, Angulo had misgivings about her farmworker parents being burdened with the expense of her higher education. As a result, she was among the first to volunteer when an armed services recruiter came to her high school and asked who would like to enlist in order potentially to have the U.S. government pay for their college.
"I didn't hesitate to raise my hand," Angulo said.
Within three years, U.S. Marine Corps Pvt. Angulo would make the rank of sergeant, and finish out her active duty enlistment at Camp Pendleton in 1999. The next five years were also spent as a Marine Corps Reserve.
Angulo's military training instilled in her the discipline and organizational skills that she would later carry over into her career in the civilian world. It also provided an opportunity for her to act in a supervisory role complete with administrative and fiscal duties.
Most of all, her service taught her the importance of serving and helping to protect one's country, and the added responsibility a team leader has to ensure their subordinates have the resources necessary to accomplish their objectives.
"When you're in the service, you take care of your own," Angulo said. "If the team is well, you are well."
As intended, Angulo was able to use her G.I. Bill funds to pursue a higher education, this time at Imperial Valley College, where she averaged about six to seven classes a semester in pursuit of an associate's degree in business administration.
It was also during her time at IVC that she came to understand the significance of the art school scholarship she had previously been awarded and which at the time she had simply considered "pieces of paper."
"I had no idea what a scholarship was and that was so unfortunate," Angulo said.
From IVC, she then went on to study public administration at San Diego State University-Imperial Valley, eventually graduating in 2006 with a master's degree in the same field of study. All while married with children and, toward the latter half of that span, employed as well.
Growing responsibilities and family
For Angulo, working in the civilian world initially took some getting used to. Her first job came in 2003 when she was hired as a case manager by the Imperial Valley Regional Occupational Program to assist some 80 at-risk youth seeking employment and educational opportunities.
Her hiring came as something of a surprise, considering the experience that she found out other job candidates had in comparison to her.
In the fall of 2003, Angulo, with her undergraduate degree in hand, transitioned to the county Public Health Department. There she began working as an administrative analyst for its immunization program and was promoted to supervisor after two years.
As a supervisor, additional opportunities for advancement within the department opened up, but didn't appeal all that much to Angulo, who at that time still had doubts about her future at ICPHD. During that time, other outside job offers and interviews followed, yet had failed to persuade her to leave the agency.
"I don't know what was in me that tied me to that chair in Public Health," Angulo said.
In 2007, a departmental position for Health Promotion manager became available, which Angulo promptly applied for, thinking she had nothing to lose.
Despite the stiff competition, she landed the job, and would remain in that position for a highly gratifying seven years. Angulo said she found the position's greater level of interaction with the community and stakeholders so enjoyable that she had even contemplated one day retiring in that capacity.
Yet, her ICPHD colleagues would soon help convince her that she was destined for greater things.
Indeed, it was mostly their prodding that persuaded her to apply for the Community Health program's deputy director position in 2014. As the deadline for applications neared, Angulo said she once again felt like she had nothing to lose by applying.
And knowing that she had had enough of her colleagues' backing and trust added to her comfort level when she was offered the position, which helped administer the department's Health Promotion, Emergency Management Services, and Maternal, Child and Adolescent Health (MCAH) sections and their numerous respective programs.
"It was a game changer," Angulo said.
The move came with a promise to herself that her career advancement was over and done with, as she and her husband now had three children to provide for.
Soon enough 2019 arrived, which coincided with her younger children entering adolescence and her oldest daughter marrying and having a child of her own, making Angulo a proud grandmother.
While Angulo currently is not able to indulge her artistic talents as much as she would like to, the birth of her first grandchild inspired her to write a poem dedicated to her, and write a first draft of a children's book dedicated to her as well.
In December, Angulo would also recall hearing about the emergence of a novel coronavirus that was infecting people overseas and which was raising concerns among infectious disease experts.
"Little did I know this would become a worldwide pandemic," she said.
Turning challenges into solutions
In January, the county Board of Supervisors unanimously appointed Angulo as county Public Health Department director, following the retirement of Robin Hodgkin after 29 years of service.
As before, Angulo had initially resisted seeking out the position, but reconsidered after colleagues again encouraged her to apply. Any celebratory mood she may have had was dampened by the emergence of the COVID-19 pandemic, which ushered in an unprecedented time for the department and the general public.
As one of the agencies on the front lines of the county's efforts to stem the pandemic's spread locally, Angulo said she had to physically and emotionally prepare herself for what was unfolding and what was yet to come.
At the same time, the department's guidance and efforts were being largely influenced by the input of stakeholders at the local, state and federal level, which weren't always in agreement.
"It's been a very challenging situation where you have to work with so many personalities, emotions and shifting priorities," Angulo said. "I think we're holding up and a lot of it has to do with the support that has been granted to this department by the county and its leadership."
Some of the groundwork for the department's initial and sustained responses to the pandemic were a reflection of the efforts it deployed during the aftermath of Easter 2010 earthquake and after the country's first case of the H1N1 swine flu was reported in April 2009 in the Valley, she said.
In spite of those prior experiences, Angulo admitted the pandemic presented unique circumstances that taught her an incredible amount over the past seven months. Others' unsuccessful attempts to mitigate the pandemic's impact proved informative, as well.
As a local native, Angulo said she can sympathize with the hardships the pandemic imposed on a diverse cross section of the community, and strived to ensure the community understood that the department's decisions and guidance were made with the public's best interests in mind.
"It seems like a sacrifice, and it is," Angulo said. "We are asking so much of our community."
The COVID-19 pandemic also appears to have convinced Angulo that her professional future and that of the Public Health Department's are one and the same, and that the situation required her to bring her wealth of prior experiences to the table in order to succeed.
"We are in a difficult times and we're talking about people's lives," Angulo said. "I think about what needs to be done, so a challenging situation becomes an opportunity."