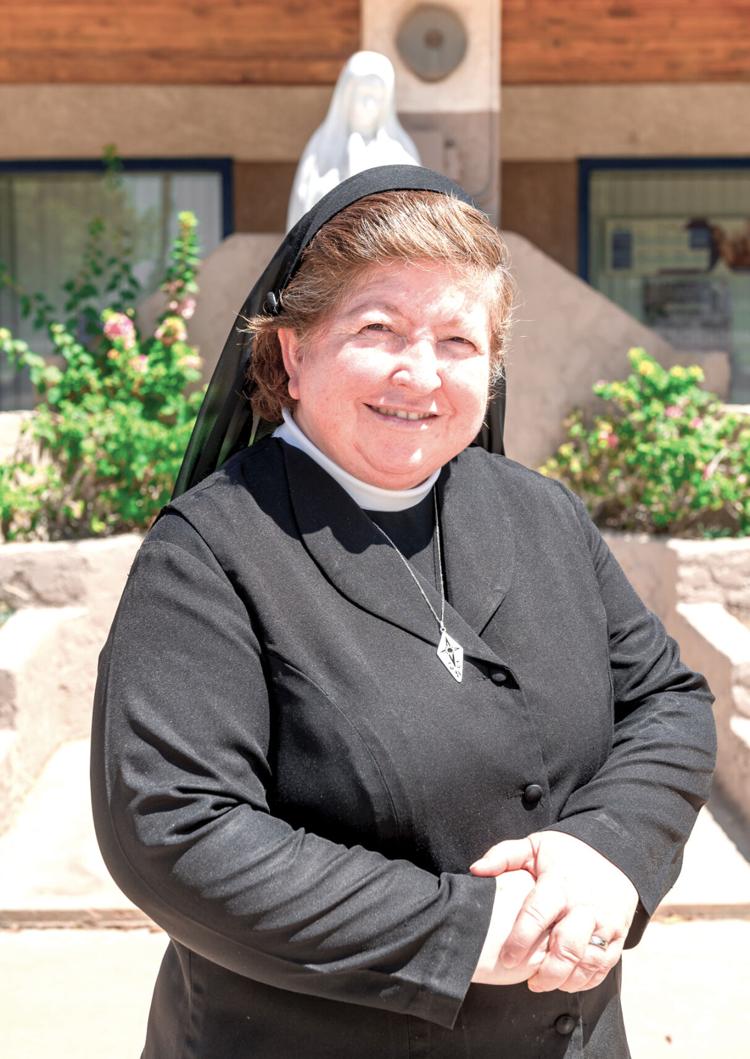 Sister Lupita Hernandez didn't originally dream of joining the Roman Catholic sisterhood, but she always knew she wanted to be a teacher. It turned out, though, her discovery of a religious calling was just the step she needed to set her on the path she wanted.
Sister Lupita will begin her ninth year as principal of Vincent Memorial Catholic High School at the start of the 2020-21 school year.
Born and raised in the small town of La Barca, Jalisco, Mexico, Sister Lupita said the teaching bug bit her early. However, the nearest institution that offered teaching credentials was about to hours away. Aside from the logistical problems in this, there was another obstacle in the person of the young girl's father, who wanted his teenage daughter to stay close to home in order to help care for her family, which included nine siblings.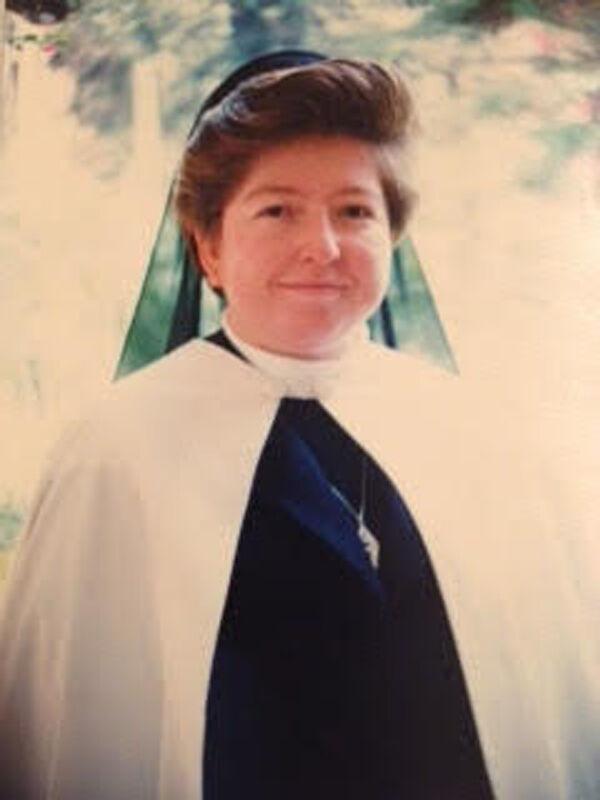 Sister Lupita said she obeyed her father's wishes and pursued a course of study available in town. That turned out to be accounting.
The 15-year-old figured she would attend the Catholic high school in her hometown, become an accountant, and then, once she could support herself financially, pursue her dream of becoming a teacher.
Her accounting classes were taught by Catholic sisters, in this case ones belonging to the Sister Servants of the Blessed Sacrament, an order founded in 1904. Sister Lupita said this was her first real exposure to devoted religious women. Although growing up, she was very involved with her Catholic parish, including youth group, catechism and choir, she had always attended public schools. Consequently, she hadn't really spent any time around nuns or sisters. She didn't even really know there was a difference.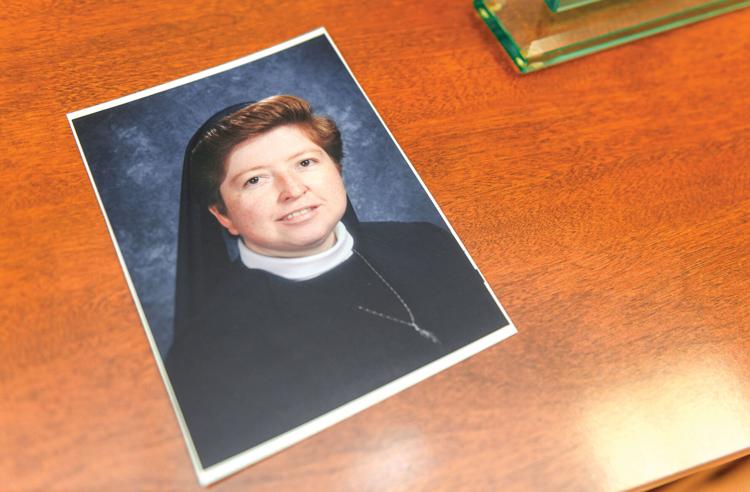 It turns out there is. Sister Lupita explained that nuns live in papal enclosure in a convent (a home with a community of nuns) and they are dedicated specifically to prayer and contemplation. Catholic sisters, on the other hand, live outside the convent, live an active life of work sustained by prayer and are dedicated to fulfilling their ministry's mission. Each ministry has its own mission, such as serving in education, healthcare or pastoral work.
Nuns' vows place them in a contemplative existence marked by silence, prayer and separation from the outside world. Socialization and recreation can be very limited. Catholic sisters, on the other hand, take simple perpetual vows of poverty, chastity and obedience.
"I knew I could not be in a closure," Sister Lupita said of her decision to become a sister rather than a nun. "I needed to get out, and I'm kind of talkative sometimes, so I didn't think I could be in sacred silence all the time."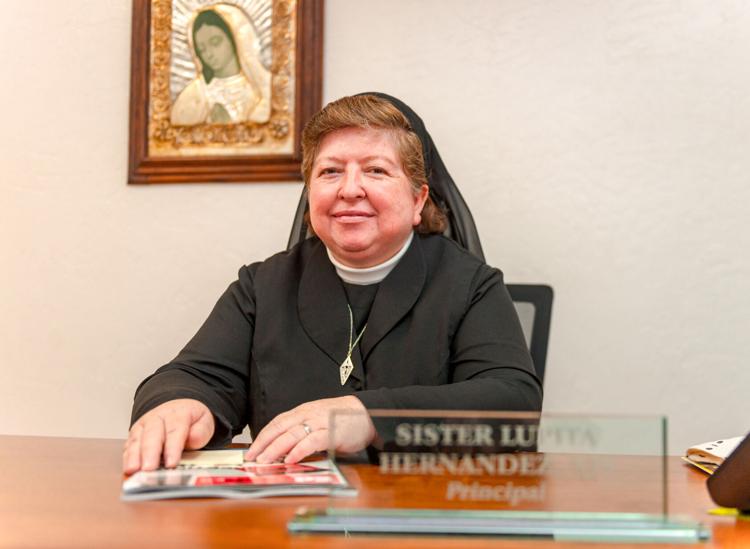 She recalled that when she was 16, she went on a retreat with other classmates to the Sister Servants' mother house in Guadalajara. The nearly 800 sisters in the ministry are all teachers or school administrators, and go to whatever parochial school they're assigned to.
Sister Servants of the Blessed Sacrament has one province in the United States based in Bonita, Calif., that administers schools throughout the state, such as Mater Dei Catholic High School in Chula Vista and Vincent Memorial.
The rest of SSBS' provinces are located in Mexico, Guatemala, Chile and Peru.
It was while on that retreat Hernandez realized she had found a home.
"I fell in love with the place," she said of the convent. "I really liked all the activities they had for us. I decided then that I really wanted to be there."
So once she finished high school, she applied to join the order.
"Right away, I felt like God was calling me," Sister Lupita said. "I felt at home, and I was attracted to that religious life."
She was accepted into the order Aug. 22, 1987, at the age of 17 and moved into the mother house in Guadalajara.
"It was hard to leave my parents and my whole family," Sister Lupita said. "It was hard, but I was so excited to join that I wasn't thinking so much on that."
By 1991, she had taken her vows and earned her certificate to become an elementary school teacher.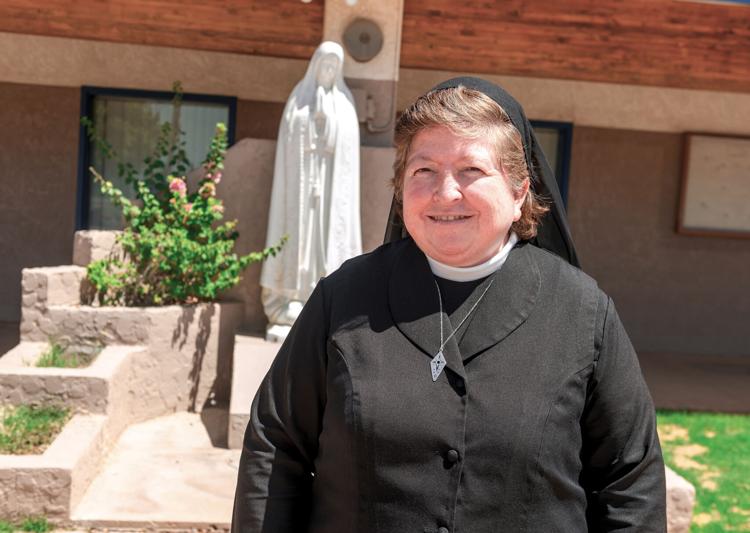 She was transferred to Sun Valley in downtown Los Angeles to study, which was the first time she had ever been to the United States. She had no relatives or friends in this country, and that has remained true to this day.
In Mexico, she would hear stories about Calexico and San Ysidro from other sisters.
"We just knew where Calexico was, but we didn't know about what the life in Calexico was," Sister Lupita recalled. "They never taught me it was so hot."
She spent a semester at a Sun Valley college studying English. The 1994 Northridge earthquake caused the college to become too damaged to continue accepting students, so she was transferred to Santa Monica College. She followed that up with additional training at Los Angeles Valley College.
Her first teaching assignment was a second grade class at a Catholic school in Bakersfield. She did this while also taking classes at a local community college.
Four years later, she was transferred to Our Lady of Guadalupe Academy in Calexico, where she started off teaching third graders and later teaching religion classes for sixth through eighth grades. She also led the student retreats at the academy.
While she was performing her duties at Our Lady of Guadalupe from 1999 to 2003, Sister Lupita continued pursuing her own education, attending classes at Imperial Valley College.
Next she moved on to Sacramento, where she attended Sacramento State University and earned her bachelor's degree in early childhood education. She stay in the state capital another four years to serve as vice principle and teacher at a Catholic junior high school in the city.
The following move found her back in Los Angeles, where she taught math and religion in the upper grades of a parochial school called Our Lady of the Holy Rosary while attending Loyola Marymount University in pursuit of her master's degree, which she completed in June 2010.
It was back to Bakersfield after that. There she served two years as principal, preschool director and occasional religion teacher for Our Lady of Guadalupe School before finally being reassigned to Vincent Memorial.
Sister Lupita acknowledged there was some nervousness involved in transitioning from an elementary school principal to a high school one, but she said she felt prepared.
"I think the superiors at the time saw in me that I was ready to move on from elementary school, and they transferred me," she said.
Coincidentally, the young students she taught at Our Lady of Guadalupe Academy in Calexico were attending Vincent once Hernandez became principal in 2012. She was also acquainted with two of the teachers at from her previous stint in Calexico.
This made her transition that much easier.
"I was happy to be back in Calexico," she said. "The weather here is not as important as being close to the people. When you're happy in the place, the weather is the last thing you think of."
Sister Lupita is one of nine SSBS sisters in Calexico: One works at the Our Lady of Guadalupe parish; six work at the academy, and two, including Sister Lupita, are at Vincent Memorial.
They all live together in a convent on Rockwood Avenue in Calexico.
Since 2012, Sister Lupita has worked with no more than two other sisters on campus. There was a three-year period where she was the only sister at Vincent Memorial.
This school year it will be only Sister Lupita and Sister Celina Davalos representing the Sister Servants. All other staff are laypersons.
The "servant" identifier is her religious order's name isn't just there to make the name longer. It's a reflection of who Sister Lupita is. She said she likes to help out around campus in any way she can. That includes helping out in the school's kitchen, going on retreats, attending students' mock trial matches and sporting events, substituting when a teacher calls in ill or helping clean up the gym.
"I like to be more than a principal," she said. "I don't mind doing things when you know you're doing them for a good reason."
She also enjoys that, as principal, she has an opportunity to work with not just one classroom, but an entire campus.
"I have the opportunity to make a difference in the lives of the whole school — all the students, and the faculty and staff, too" Sister Lupita said. "I like to get to know them by name."
One tangible result of those efforts is the completion of Vincent Memorial's new classroom building. Sister Lupita helped organize and allocate the funding for the project, which represents the first major construction on campus since 2008, when the school's gymnasium was remodeled.
The new building has seven classrooms, a science lab and a chapel — all of which are connected with an indoor, air-conditioned hall.
A groundbreaking ceremony took place for the new building in May 2019, and it was ready for students to use by the start of this school year. It is the biggest building on campus, aside from the gymnasium. Ultimately, it tells a story. That story is one of hard work, persistence, faith and a lot of love.
"I will be here until the day they call me and transfer me," Sister Lupita said. "I have to obey. I go wherever they send me. It's going to be hard for me because I fell in love with Vincent, and I love Vincent."
She said plans to remain in education as long as she can.
"I think I will always look for something," she said. "Even if I was to retire or stop teaching, I think I will always look for something to be involved in and to continue leaving a mark, or making a difference."